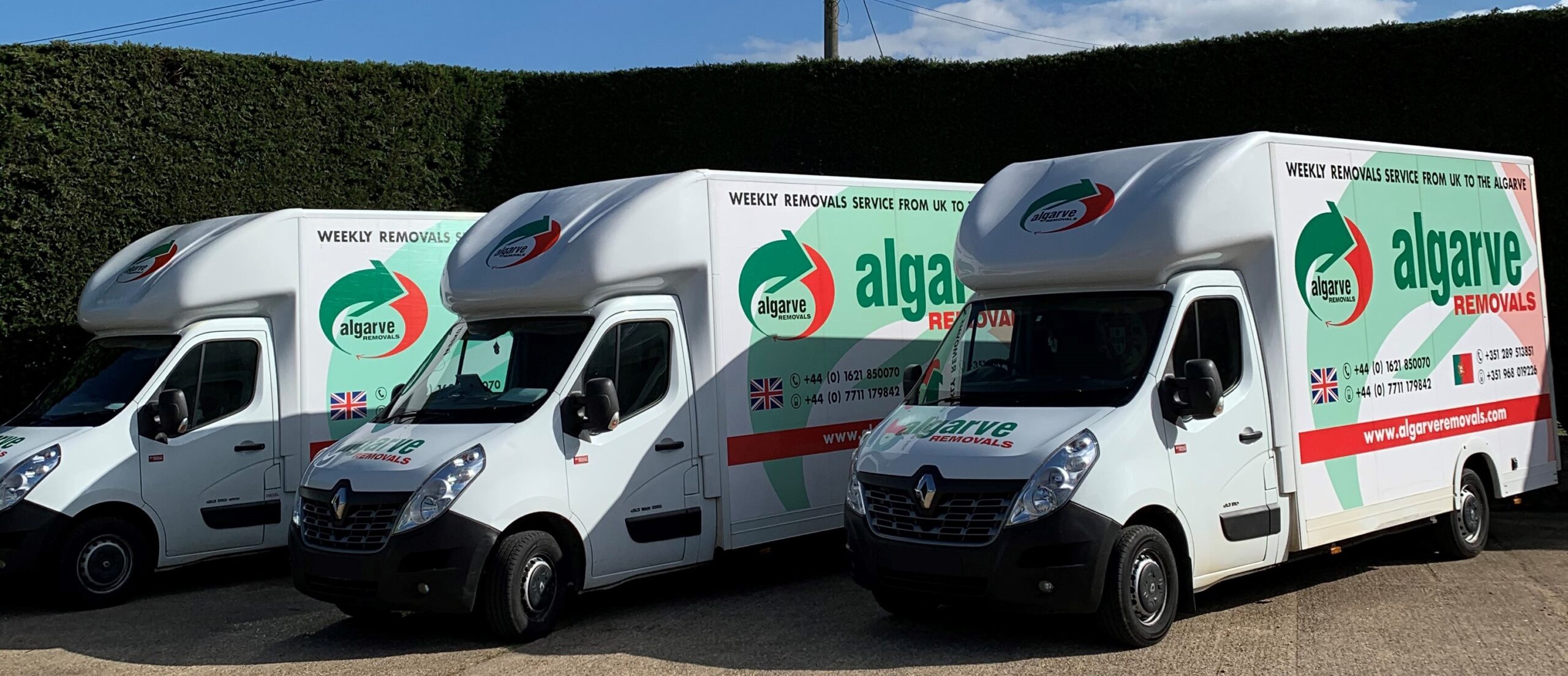 SPECIALIST REMOVAL SERVICES TO AND FROM THE UK, PORTUGAL AND SPAIN
SAVE TIME AND GET A FREE QUOTE NOW
Dear John
We just wanted to write and say thank you for a very swift and efficient delivery of our sofas to Portugal. Your staff both in Ireland and Portugal were courteous and helpful.
Kind regards
Justin & Joy Dobbs
Hi John,
Once again – many thanks for delivering our goods safe and sound – in spite of horrendous seas and French strikes! With all best wishes
Pat
Dear John
We would like to thank you for your excellent service in delivering our consignment to Albufeira.
Your chaps, both in the Ireland and in the Algarve, were efficient, fast, helpful and cheerful. In fact they delivered the goods as soon as I contacted them to say we had arrived – before the scheduled delivery date.
I just wanted to thank you for an efficient, and safe, removal job! My new computer not only arrived safely, and quickly, but is now up and running succesfully.
Many thanks
Brenda Leitao
Hi John
Just wanted to thank you so much for the excellent service your company provided us with getting all our things to Portugal speedy and safetly.
Your service could not be faulted at all and I would recommend your services to anyone I know moving to the Algarve!
Thanks again for helping me out at such short notice.
Kindest regards
Debbie Jackson
Thanks for all your help throughout; making the process as simple and pain free as possible.
Graham Proud
Dear Mr. Scott,
Just a brief note to thank you for transporting our excess baggage from England. We were most impressed with your efficeint and reliable service and if required in the future would not hesitate to use your services again or recommend you to friends.
Thank you
Roberta and Steven Brown
Dear John,
Thanks so much for comming out this morning was a great help and I really appreciated it. Your boys were fantastic really nice people and a credit to your company turned a stressfull day into a laugh. If you ever need any staff in portugal please let me know as I would be interested to work with such a great team.
Kind Regards
Susie
Fao. John Scott.
Just a note of thanks, the goods arrived in 1st class condition and on date promised. It is a pleasure to do business with such a courteous and efficient company. I hope to avail of your service in the near future and I would have no hesitation in recommending your services to anyone requiring International Removals.
Best Regards
John Elmes
John,
Terrific service and a very pleasant driver.
Regards,
Peter J. Robson
Hi Tracy and John
Just to a note to say thank you very much.
Our furniture arrived in Portugal without any damage at all and the people there were extremely helpful and kind.
We look forward to doing business with you again and will recommend your company to any one we can
Thanks again
Paul Kent & Hilary Spencer
Hello John
Just a quick note to say how delighted I am with the service your company provided. Both the pick up and delivery were organised very well, I was informed exactly when the appointments were to be carried out – everything arrived in excellent condition.
I cannot recommend you highly enough.
Thank you
Jim Nixon
Good morning John,
Just a short email to thank you for the excellent service given by all your staff involved in my recent shipment from the UK to Gale, Portugal.
All went exactly to schedule with no problems or delays, a 1st class service.
This is the second time I have used you and would have no hesitation in recommending your company to anyone who asks.
Please convey my thanks and gratitude to everyone involved,
Kind regards,
Geoff Dando
Hi John
Just a short note to thank you and your guys for the excellent service both in collection and delivery of my goods to the Algarve. Very friendly and careful, an excellent service.
I will certainly use you again when I need anything else moved.
Many thanks
Les
Les Marshall
Hi John
We just wanted to say thank you to you and your team for an efficient and professional service. Both your team in England and in Portugal were very good, professional and efficient and everything arrived safely. We were very happy with service you all provided. We would definitely recommend you to all our friends.
Thank you once again.
Regards
Sue & Bob Williams
John,
I thought I would write to you to thank you and your staff for the very cooperative way they moved a considerable amount of furniture,glass,pictures and personal valuables to Portugal for me.
Leaving aside the fact that you had to coordinate collections from three separate locations in the Ireland, your competitive pricing was much appreciated. This efficiency in the Ireland was more than matched by the efficiency of the logistics that took place in the Algarve.
Delivering lorry loads of personal items to Olhao old town without any damage is no mean feat.
You can use this email as a reference and certainly get potential customers to call or email me for further comments.
The Hon David Clark.
Dear John and all of the team at Algarve Removals both in the U.K and in Portugal.
It is with great pleasure that I write to you regarding your outstanding service!.
Since purchasing my apartment in Portugal and having made several separate shipments, both small and large through Algarve Removals, I feel compelled to write to you to thank you for what has been, by any measure, a first class service.
Nothing has been too much trouble for you and the communication at both end of the operation is exemplary. This together with competitive rates means I have to look no further for all my shipping needs.
As I have mentioned my brother is currently in the process of building another property in the Algarve and I have advised him that he need look no further than yourselves when he needs to transport absolutely anything to the Algarve.
Once again many thanks!
Mark Scofield
We would just like to thank you for the reliable service transferring our packages from England to Portugal. Your drivers were very prompt and friendly at both locations. Thank you. We have used your Company on several occasions and will continue to do so when needed.
Henry & Chris Morris
Dear John
Just a very quick email to say thank you, absolutely fantastic service both ends here and on the Algarve.
As you can probably imagine we got delayed at Loule on Monday signing the documents and at the bank but managed to get to the house at about 2.25pm, we got out of the car, walked across to the gate and by the time I had got as far as the front door your removal van was driving down the road! We have actually unpacked very little as we are going to have a lot of work done and we need to get a little more sorted out but everything looks to be fine from the state of the boxes.
We will be in touch regarding the next load to go out in due course. Will we keep the same account number throughout?
Thanks again
Jill
Dear Algarve Removals,
I feel I have to contact you so say how pleased my wife and I have been with the recent service received from your staff both in Portugal and England. From our first telephone enquiry in the Algarve, the visit by Paul to assess our needs and the packing of our goods by the excellent Adrian and George we have received nothing but the best of help, support and advice.
The delivery of our house contents into storage in Ipswich was also first class. Good communication by your driver John coupled with courtesy and efficiency.
Every member of your staff whom we came into contact with was a real credit to your business.
Thank you all for making our move totally stress free!
Mike Flynn
Dear John,
Just to let you know that your colleagues did also a marvellous job on this side.
They were friendly, helpful, efficient and professional.
We will certainly recommend your company among the expats in our community when we are down in the Algarve in April.
With many thanks and kind regards
Eckart
Eckart Floether
Good morning
We would like to thank you for the excellent service you provided for our move to Portugal last week.
Your employees were all very professional, polite & helpful.
We would certainly use Algarve Removals for any future requirements we have.
Kind regards
Stephen & Helen Bray
Good Morning Jonathon,
Just to say another job well done by Algarve Removals. Thank you both to the Portugal team and yourself, Bonnie and Tracey in the U.K. I wouldn't hesitate to recommend you – everything done on time, with courtesy and friendliness, and the boxes were delivered in "mint" condition.
Best regards,
Maggie Overton
Hi John,
Just a quick email to say thank you for the fantastic service you and your team provided getting my mums stuff from the UK to here in Portugal. I always tell people how good you all are.
Kind regards
Karen Thorpe
Phil
Just a short note to thank the Algarve Removals Team for what can only be described as 'faultless service' during our recent move to Portugal.
You have a great team, please convey our thanks to those involved with our move (34222) both in the UK and in the Algarve.
Rest assured I will recommend your team and look forward to utilising Algarve Removals for any future moves, large or small.
Once again many thanks.
Roy & Debbie Woodruff
We would like to thank all the team both in the UK and the Algarve for a very efficient collection, handling and delivery of our glass fronted furniture. All the timings were accurate and well notified, we couldn't have received a better service and it was good value for money. Thank you!
Kind regards
Christine Vaughan
My compliments to all at Algarve Removals for my recent shipment.
Both collection (in UK) and delivery (in PT) were very efficient.
Staff in both locations were courteous, friendly and helpful.
Thank You.
Stewart Smith
29A Mayflower Way
Jonathan / Paul
READ OUR CUSTOMER REVIEWS